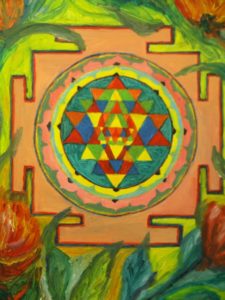 I was tought the painting of mandalas during a visit to Nepal 1997 and 1998 (Galerie: Mandala, German website).
I share my experiences in Mandala Painting by giving lectures and seminars.
Mandala painting grants me the gift of an additional dimension in allowing to connect my own personal world with the Universe. Severe structure and traditionally predefined colorings teach me the meaning of limitation, thus making way for a deeper understanding of what real freedom means. Here I can combine strict form and definition with my very individual way of expressing and feeling.
Mandalas symbolize the basic structure of Creation. Seven pathways lead from Ego to Cosmos – the world in which we all become One. Mandala, as the Asian way to meditation, is a painted prayer. Every color, every symbol has its own special meaning, representing Divine Energy and our very own relationship with this Heavenly Power.
In 1997 and 1998 I travelled to Nepal for several months. During both trips I was given the opportunity to get deeply involved with the Nepalese religious culture, immerse into the people's spiritual profundity and to study Mandala Painting. In Bhaktapur, the Master of Mandala Painting, Madhu Krishna Chitrakar, accepted me as his pupil and introduced me into this art.
In a mandala we connect to our Self and to the Universe. `Mandala`is a Sanskrit term encompassing the meanings of Center, Magic Circle and Mystery. In contemplating or painting such magic circles we can sense tranquility and energy – we can start onto a journey discovering our inner realms.